Vegan No-Bake Earl Grey Blueberry Tart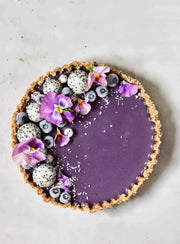 This no-bake vegan blueberry tart combines the flavours of blueberries and our signature Earl Grey tea with a coconut cream base and almond-coconut gluten-free crust.
Recipe via @alphafoodie. Follow here instagram.com/alphafoodie
INGREDIENTS:
RAW BASE
1 cup almonds
1 cup shredded coconut (or leftover coconut meal after making coconut milk)
5 dates
pinch of salt
1 tablespoon coconut oil (only if needed when the base is not sticky)

TART FILLING
1.5 cups full fat coconut cream homemade or tinned
1 cup blueberries
1 tablespoon Earl Grey tea
1/4 cup maple syrup
1 tablespoon corn starch
2 teaspoon agar-agar
1 teaspoon vanilla extract

DECORATION
a handful of blueberries
a handful of dragon fruit balls
1 tablespoon shredded coconut
edible flowers optional, or any of your favourite fruit or toppings
1. Blend the almonds in a food processor/blender till a fine crumb. Add the rest of the crust ingredients and mix well until you obtain a uniform sticky mixture. *

2. Add the crust dough to a tart tin (8″/20cm) and spread it evenly on the whole surface. Leave to chill in the fridge, while you prepare the filling.**

3. Heat up the coconut cream in a medium saucepan, stirring well till smooth and uniform. Add the rest of the filling ingredients. Mash the blueberries in the saucepan so they release their juice, giving color and flavor to the mix. Bring to a slow boil and cook for a few minutes until the mix thickens, stirring continuously.***

4. When the mixture has become thicker, remove from the heat and pour through a sieve to remove lumps.****

5. Pour the filling over the crust and leave it to cool completely. Place in the fridge for some time, till the filling is completely set. As the tart sets and the filling cools down, the color will deepen (naturally) giving you a gorgeous dark purple!

6. Decorate with blueberries, dragon fruit balls, shredded coconut, and edible flowers or with your favorite toppings.


Notes
To use the tinned coconut cream, chill a tin of full-fat coconut cream in the fridge overnight. When ready to use, open the tin and scoop out the thick cream- this is what you'll be using. The remaining liquid can be used in smoothies and other baking recipes.
The consistency of this blueberry tart is less creamy than a blueberry cheesecake and more like a set pudding consistency due to the agar-agar. If you'd like a creamy cheesecake consistency then you may prefer this cashew cream-based Earl Grey and Blueberry No-Bake Cheesecake.
You can easily adapt this recipe into mini-tarts by separating the mixture into mini tart pans. The amount you can make will depend on the size of your tins.
Feel free to adapt the crust to your dietary needs. You can use sunflower seeds for a nut-free version. You may also use a Graham cracker crust if preferred.
You can top the tart with additional blueberry 'sauce'/ compote by simmering blueberries with a little lemon juice (and optionally lemon zest) and sweetener for a few minutes.
Use tart tins with a removable base for easy removal.
———
* If the crust isn't sticky enough then add a tablespoon of coconut oil and this will help it to stick together when chilled. You can also soak the dates in hot water for 10 minutes before using them if they seem a little dry, this will help them to become more 'sticky'.
** Use something flat to press it into the base and make sure it's level along the bottom.
*** Depending on whether you use fresh or frozen blueberries, this will change the colour of the tart. As well as if you use tea with butterfly pea flowers or not.
**** Because of the tea in the mix, it's tricky to use the remaining pulp. If you're wanting to avoid waste then you could steep the tea in the mixture using a steeper or 'teabag'. You can then discard that and when you sieve your blueberries, use them for smoothie bowls, yogurt, porridge, etc.